Deutsch/German (English version in the bottom of the post)
Wir haben uns dazu entschlossen, das Verwarnsystem umzustellen um den Lernfaktor zu erhoehen.
Die Verwarnungen verfallen jetzt erst nach laengerer Zeit und laufen nur aus, wenn man keine weitere Verwarnung erhaelt.
Jede Verwarnung gibt Strafepunkte und ab einer gewissen Punktzahl gibt es eine automatische Sperre von 1 Monat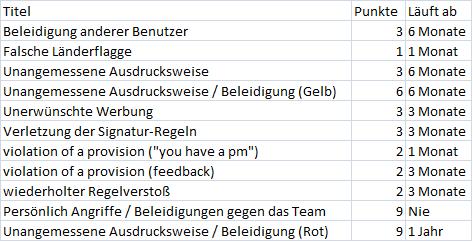 English:
We decided to change the Warning and Penalty system in order to increase the learning experience.
The expiry of a warning now takes longer and will only be deleted if no new warning is added.
Each warning is tied to malus points and at a certain number of points, there will be an automatic suspension of 1 months.
Overview of Penalties you can see in the picture above, a quick translation as below:
Column 1 - Name of Warning
Column 2 - Penalty Points
Column 3 - Expiry
Warnings, in order as above:
Insulting other Member
Wrong Country Flag
Inadequate language
inadequate language / Insult (Yellow)
Unwanted advertising
breach of signature rules
violation PM
violation feedback
repeated infraction
Personal attacks/insults against moderators/admins
inadequate language / Insult (red)