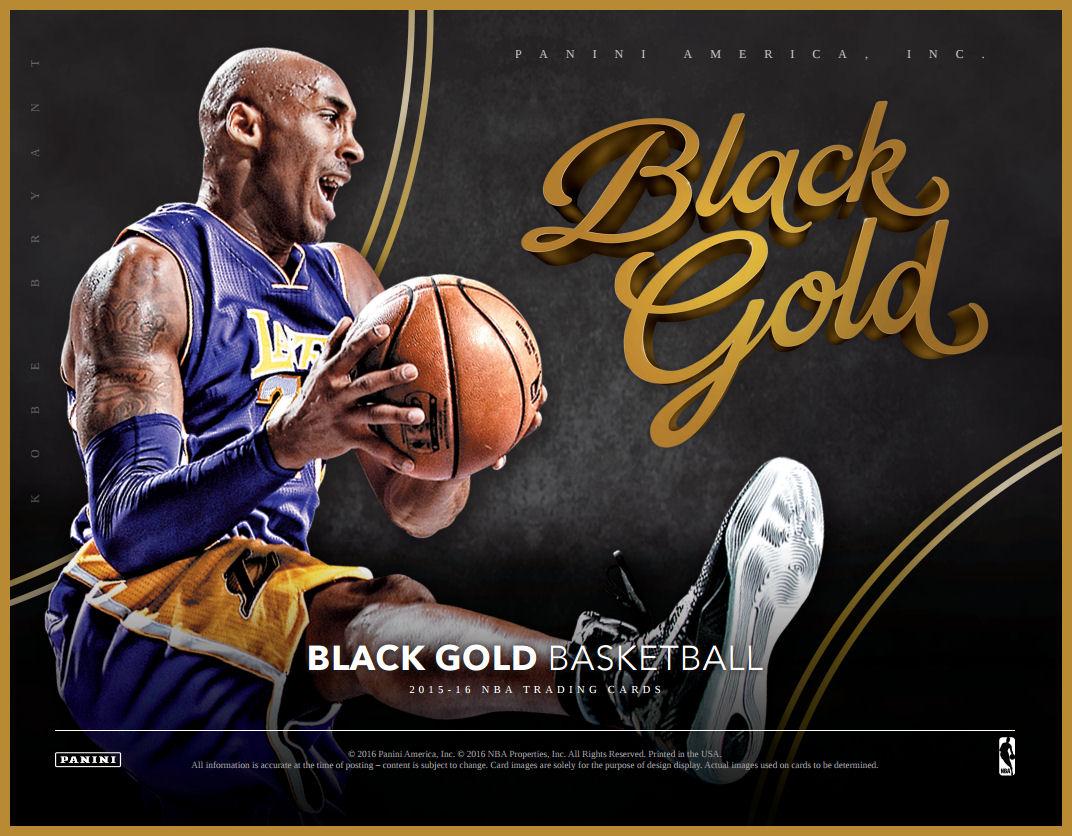 RULES:
* This is a LIVE TEAM AUCTION Case Break
* 30 Teams available .
* The Break and AUCTION will be live on Breakers.tv/dirty30cards
__________________________________________________ _________
Um diesen mitzuverfolgen könnt ihr euch bei http://breakers.tv/ registrieren!
Meine BreakersTV seite ist Dirty30Cards on BreakersTV
Wenn ihr angemeldet seit,dann auf meine Seite und könnt ihr am Chat teilnehmen!
Auf Youtube könnt ihr alle Break Aufzeichnungen sehen!
Youtube
__________________________________________________ ___________
Find One Team Emblem or Gold Disc Card Per Case!
Each Box contains Four Autographs or Memorabilia Cards!
2016 Black Gold makes its much-anticipated debut in basketball! Look for 4 Autograph or Memorabilia cards per box #'d/199 or less on average!
Look for oversized rookie autographed memorabilia in Rookie Jersey Autographs and Rookie Sizable Signatures!
Pull on-card autographs from some of the NBA's top legends and veterans in Black Gold Signatures with a Holo Gold parallel #'d/10!
Collect memorabilia cards from the league's all-time great dunkers in Golden Jams!
ROOKIE JERSEY AUTOGRAPHS PRIME/GRAND DEBUT SIGNATURES/ROOKIE SIZABLE SIGNATURES PRIME: Black Gold is loaded with stunning rookie content! Pull oversized prime versions of Rookie Jersey Autographs and Rookie Sizable Signatures #'d/25 or less!
MASSIVE MEMORABILIA PRIME/PICK AND ROLL PRIME/GOLDEN JAMS PRIME: Find plenty of unique, stunning memorabilia throughout Black Gold! Look for loads of oversized material with awesome Prime parallels #'d/25 or less!
TEAM EMBLEMS: Chase rare Team Emblems cards that feature the NBA's top rookies, stars and legends, including 10 cards that showcase stunning ABA team logos!

8 Boxes Per Case, 2 Packs Per Box, 4 Cards Per Pack
__________________________________________________ ____________
Paypal Payments as GIFT (Friends & Family) to Dirty30Cards@gmail.com


ALL TEAMS WILL BE AUCTIONED OFF LIVE TODAY STARTING AT 21:00h GERMAN TIME!

HOW DOES IT WORK?

I WILL AUCTION OFF EVERY TEAM WITH A MUCH LOWER STARTING PRICE AS IT NORMALLY IS!

EVERYONE CAN START BIDDING ON THE TEAMS. THEN I WILL COUNTDOWN FROM 10 to 0 AND WHOEVER HAS THE HIGHEST BID AT THE END WILL GET THE TEAM FOR THE PRICE THEY BID!!

JUST LIKE ON EBAY ONLY THAT THE COUNTDOWN WILL RESET ONCE SOMEONE PUTS A BID WHILE COUNTING DOWN!!!

COME AND JOIN IT WILL BE FUN!

___________


ALLE TEAMS WERDEN ALS AUKTION IM CHAT ANGEBOTEN AB 21:00h!

WIE FUNKTIONIERT ES GENAU?

ICH LISTE JEDES TEAM NACH DER REIHE MIT EINEM SEHR GÜNSTIGEN STARTPREIS.JEDER KANN DANN IM CHAT GEBOTE ABGEBEN BIS ICH DEN COUNTDOWN STARTE! WIRD MAN WÄHREND DES COUNTDOWNS ÜBERBOTEN DANN FÄNGT DER COUNTDOWN VON NEU AN SOLANGE BIS ICH AUF 0 RUNTERGEZÄHLT HABE!

SO KANN JEDER SEHR GÜNSTIG AN TEAMS KOMMEN!

ICH HOFFE ES SIND EINIGE DABEI!